Monday, November 24, 2008
Sunday, November 9, 2008
For A Limited Time Only:
Zombie Holiday Cards by Dane Ault.
Each design is 100% original and I guarantee you've never seen cards like these in your local Hallmark.
Here they are: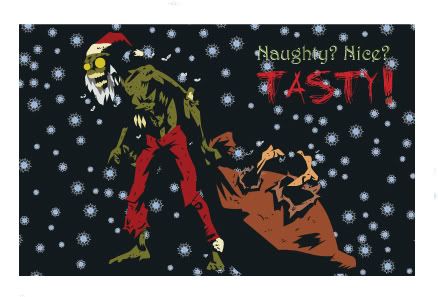 Inside reads: "Which list are you on?"
Inside reads: "May you get everything you wish for this year."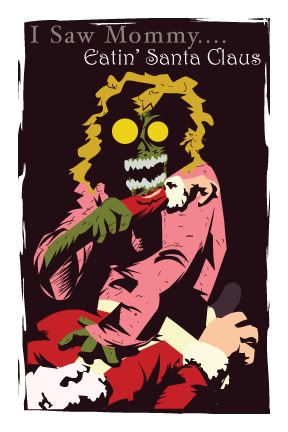 Inside reads: "Watch what you eat this holiday season."
I also still have some Valentine's, St. Pat's, birthday and a blank generic design.
Cards are $2.50 a piece, and envelopes are included.
Shipping depends on how many you get.
• $1.50 up to 10 cards/envelopes
• $2.50 from 11 to 25 cards /envelopes
• $4.80 from 26 to 100 cards/envelopes
Any more, contact me for bulk rates on shipping and card discounts.
Email to order:
dane [at] monkeyminionpress.com
Posted by

Dane
at 8:57 PM
No comments:

Monday, November 3, 2008
Download it here:
http://www.monkeyminionpress.com/electionbingo2008.pdf
OKAY. New Bingo Rules for Election Night!
Here's what I'm doing:
Play two boards. One Board is the McCain Board the other is the Obama board. Write the states you think each one will win in the boxes on each one. Now, you can play traditional bingo rules or Blackout, depending on how late you're staying up.
Here is a List of the States:
Alabama
Alaska
Arizona
Arkansas
California
Colorado
Connecticut
Delaware
Florida
Georgia
Hawaii
Idaho

State




Illinois
Indiana
Iowa
Kansas
Kentucky
Louisiana
Maine
Maryland
Massachusetts
Michigan
Minnesota
Mississippi
Missouri

Montana
Nebraska
Nevada
New Hampshire
New Jersey
New Mexico
New York
North Carolina
North Dakota
Ohio
Oklahoma
Oregon
Pennsylvania

Rhode Island
South Carolina
South Dakota
Tennessee
Texas
Utah
Vermont
Virginia
Washington
West Virginia
Wisconsin
Wyoming
Posted by

Dane
at 12:19 PM
2 comments: